Ksolare is a leading solar inverter manufacturer in India, with over 35 years of experience in the solar industry. The company is known for its high-quality solar inverters that are designed to maximize the performance of solar PV systems. The company's inverters are reliable, efficient, and durable, making them the preferred choice for many customers across India.
In this event, we showed 5G Pro plus Grid Inverter, the World's 1st 7G Infinity On-grid Inverter (25 years unconditional warranty), Hybrid inverter, and 5G ultra 
Ksolare booth 11.144 also featured a comprеhеnsivе range of solar solutions products 
Latest New Technology - 
7G Infinity On-grid Inverter -
Key Features -
Quad Core Multicore Ti-chipset
SIC Semiconductors
Silicon Nitrate Heat Management 
Very High MTBF components
Individual isolated PS for individual SC
Special circuit with high surge caring capacity 
Inbuilt super-fast WIFI with supersonic antenna & watchdog circuitry for 3-level protection
Key Features -
IP 65 with fire, water, and IK 10 resistance cabinet
PCB Level testing ICT and FCT  for 0% failure with conformal coating 
100% Indian design to work in harsh Indian environmental conditions
SNHM technique with higher temperature derating 60c 
Component level repairing with onsite service
Wide voltage range and low start-up voltage
Ti Third Generation DSP for High Energy Generation
We facilitate to our best distributor at REI Expo 2023 -
Lobel Solar Power System - 
Lobel Solar has a wide experience with Solar ONGRID Inverter distributors as well as Solar PV Power Plant design, engineering, product selection, installation commission, and execution for more than 14 years. 
We saw you work so hard every day to achieve this accomplishment, and I can't think of anyone who deserves it more.... They deliver more than 1.5 lac+ units of Ksolare Inverter.   
L'Obel almost serves for more than 11000+ satisfy customers for domestic, commercial, and industrial solar applications. Lobel installed more than 150+ MW PV Solar Projects on rooftops, ground mounted or else floating.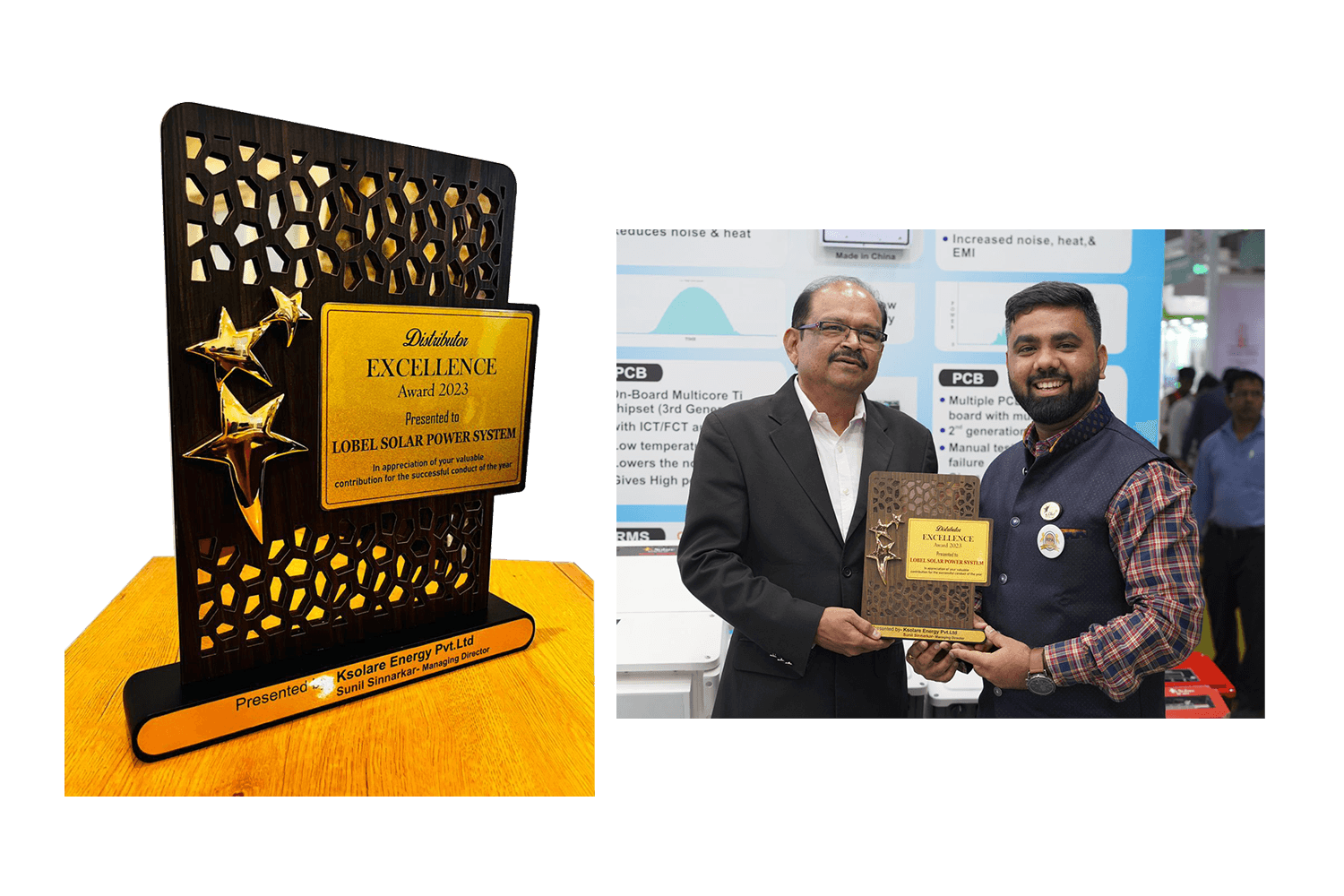 Ksolare participation at REI 2023 received such an overwhelmingly positive response from our prestigious system integrators. Potential customers, including solar industry еxpеrts, were impressed by the Compatible, reliable, and innovative that were we product exhibited
As Ksolare continues to innovate and push the boundaries of solar technology, their successful prеsеncе at the REI 2023 Noida Expo showcases their dedication to a brighter future.
It was an absolute honor to catch up once again and hope to see you soon